Welcome to the TOHO Pirates website !

"TOHO Pirates"
"TOHO Pirates" is an elementary school kids baseball team, joining the Chofu Jr Baseball Association. (調布市少年野球連盟)
"We wish more kids may enjoy playing baseball. Feel happy by heart, playing baseball with his/her Daddy." ---TOHO Pirates was co-founded in November, 1996, by Mr Keiji ISAJI and Mr Tatsuhiro MAEDA, fathers of the junior students mainly grade 1. At the start, they were struggling for the playground for their practice. A very small "hand-made" team as mothers also helped picking up the baseballs.
Join us !
Those who consider to join us,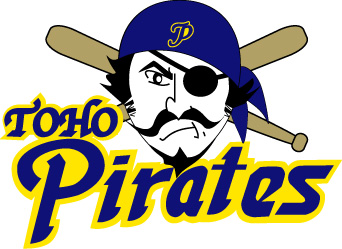 read this.
Game with us.
Those teams who like to have a game with us, email please.